The Senior Organizer: Personal, Medical, Legal, Financial
Listed by Members of Senior Passions
Calling All Readers! Like The Site Library?
Help Spread The Word...Tweet Our Crazy Awesome Awesomeness!
Sponsored Ad
go back to library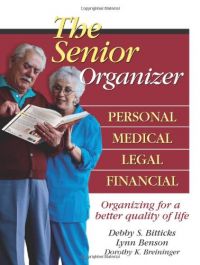 (click to view book on amazon.com)



Debby S. Bitticks, Lynn Benson, Dorothy K. Breininger


No more digging through files! The Senior Organizer is an all-in-one workbook for a senior's vital information: personal, medical, legal and financial.

Do You Want To:
Save thousands of dollars in legal and accounting fees?
Be equipped with all the information you might need in a financial crisis?
Have all your questions prepared for your next doctor's appointment?
Know how to save time and energy replacing vital documents?
Be prepared for a medical emergency?
The Senior Organizer is designed to help seniors or their loved ones assemble all their vital documentation and information in one simple, easy-to-access format. The book will provide peace of mind and supply categorized knowledge that will enable seniors to answer important questions and handle crucial responsibilities with efficiency and certainty at times when every minutes counts.



People who list this book:



go back to library
Senior Resources
News for Seniors
Senior Dating Sites
Webcam Sites
Personals / Chat Sites
Miscellaneous